Teeth in a Day™/All-on-4®
A new, beautiful smile in just one day!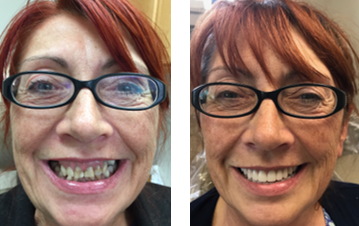 Dental implants are small titanium screws that fuse to the jawbone and serve as a strong, long-lasting foundation for your teeth. If you are missing or need to replace all of your teeth, you do not need to have a dental implant for every single tooth. Using state-of-the-art technology, the Teeth in a Day or All-On-4 treatment makes it possible to replace the full arch of teeth on only 4 implants. These teeth look, feel, and function like natural teeth and do not come on and off like a denture.
The Benefits of the All-On-4
Because All-On-4 allows full-arch restoration with only four implants, your treatment and recovery time are greatly reduced.
All-On-4 reduces the need for bone graft surgery while ensuring greater stability in the existing bone. It can even be used for patients who have been told they do not qualify for implants due to bone loss.
The All-On-4 solution is more comfortable than dentures because the All-On-4 teeth are not removable and therefore feel more like natural teeth
Unlike a denture, the teeth are locked into place by the dental implants. You'll never have to worry about your false teeth slipping or falling out while you eat or engage in conversation
The entire procedure, including any extractions that may be needed, can be done in one day.